Career and Tech Students Test Their Skills in SkillsUSA Competition | News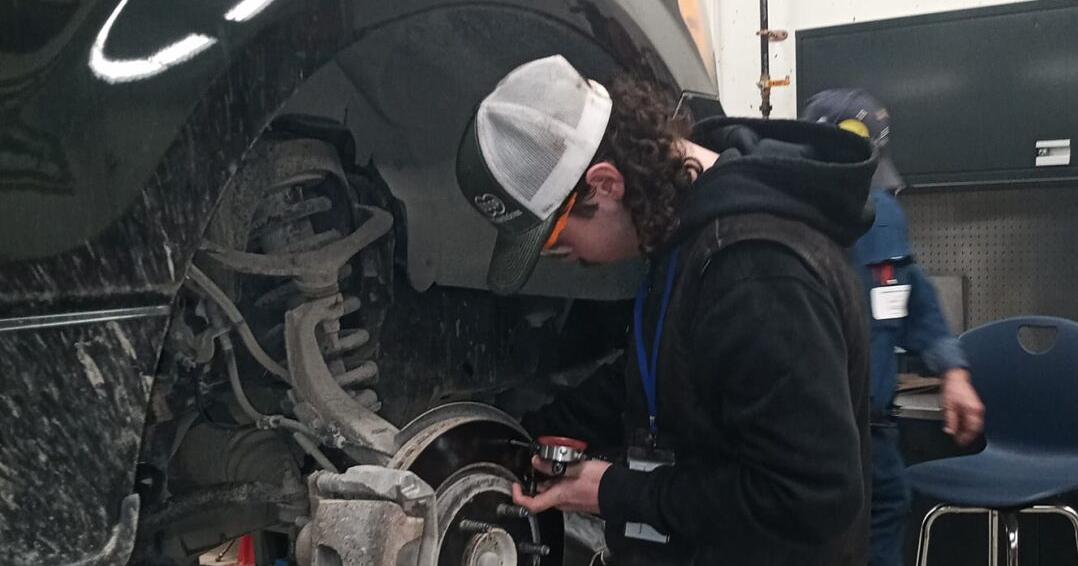 HANNIBAL — Kamylle Green is ready for her interview.
The second year of Hannibal High School was competing in the SkillsUSA competition hosted by the Hannibal Career Center and Technical Center.
SkillsUSA is a student organization for vocational and technical schools that holds an annual skills and trades competition. Local winners will move on to the state competition, and state winners will then proceed in June to the national SkillsUSA competition in Atlanta.
Green prepares to interview for a healthcare job.
"I'm going to come in, introduce myself and tell them what I'm applying for. Then they'll ask me questions like it's a real job interview," she said. will test and give me my scores, then at the awards ceremony I will know and move on to the next round."
Green was thrilled to have the chance to experience a medical-related interview and believes the experience will prepare her for the real world.
"It's going to give me a chance to prepare and I'll know what to expect and I won't go blind," she said. It's so good that they gave me this opportunity.
Seven schools entered the competition in categories ranging from automotive service technicians, welding and carpentry to nursing, customer service, architectural drafting, advertising design and more.
"The competition itself is really driven by what's being taught in the classroom," said HCTC director Brent Meyer. "The competition demonstrates and shows what happens every day in the classrooms."
Other competing technical schools were from Moberly Area Technical Center, Kirksville Area Technical Center, Macon Area Technical Center, Pike-Lincoln Technical Center, County Career and Technical Center Linn and Mexico's Hart Career Center.
The competition also held leadership competitions, including mock job interviews and public speaking on career-related topics of their choice.
The competitions were held in halls around the HCTC building where the hallways were buzzing with counselors and prep students.
Another part of the competition was the Health Knowledge Quiz Bowl where students' knowledge of healthcare in their chosen field was tested.
The carpentry competition was one of the largest groups with 17 students competing and the only category to allow students of all levels.
Students had two hours to complete a project from a set of plans. They were each given a work area and the materials were then released to build a false wall with a window, trusses and stair stringers.
Caleb White, a junior at Hannibal High School, and Tannon Lorton, a sophomore at Hannibal High School, competed in the carpentry contest. They agreed that starting the project was stressful, but it eased as time went on.
White began his journey with HCTC in the automotive class, which he did growing up, but later moved into carpentry where he discovered his career path.
"Having never done construction, I learned that I was pretty good at it," he said. "Now I plan to go to college for this."
Aaron Gander, machine tool instructor at the HCTC, said competitions like this are another tool to prepare kids for their future careers.
"Anything extra gives them an opportunity to show off their skills and put them on a resume or job application," he said.
Sending work-ready children out into the world is HCTC's goal. Gander said opportunities exist in many different areas of interest, and many can leave high school with certification in different areas.
"We have a lot of opportunities for kids in health and manufacturing," he said. "Our students can earn industry-recognized degrees in most of our programs."
Gavin Underhill, a first-time contestant at Hannibal High School, won second place in technical writing and said SkillsUSA "brings to light some of the more complex parts of trades."
Underhill thinks it was a good learning experience for everyone who competed.
"It was a little stressful like any competition, but overall I think no matter what they placed, everyone still learned a lot not just from their instructors, but from everyone who put them through. rubbed shoulders with," he said.
To see the list of SkillsUSA contest winners, visit skillusa.org or hannibal60.com where the winners will be posted next week.