IFAR webinar focuses on tracking thoroughbreds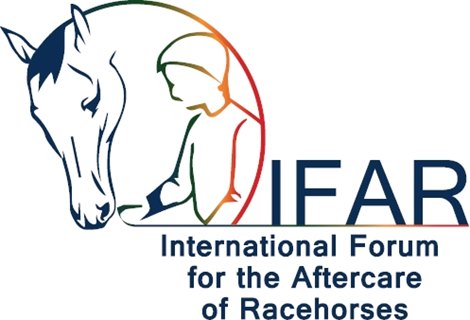 In its second year as a virtual event, the Sixth International Forum for Racehorse Tracking hosted a panel of international experts on April 5 to discuss the importance of tracking to the thoroughbred industry and of the different components of monitoring plans that are necessary to promote horse welfare. IFAR has partnered with the Japan Racing Association (Japanese Racing Horse Tracking Advisory Committee) to organize this year's event, which takes place as a series of two free webinars.
The session was moderated by international broadcaster Rishi Persad, and the speakers were Di Arbuthnot, President of IFAR; Annamarie Phelps, chair of the British Horseracing Authority; Dr Meredith Flash, Principal Investigator for the Australian Thoroughbred Welfare Project; Jock Hutchison, chairman and co-founder of Horseback UK; Dr. Jeff Berk, veterinarian for Equine Medical Associates PSC and past president of the American Association of Equine Practitioners; and Angela Schuster, Managing Director of Schuster Consulting Group.
"The opportunities for retired Thoroughbreds are many and varied, as are the strategies we need to consider and implement, no matter what corner of the world we reside," Arbuthnot said in his keynote address. . "These many routes have one objective, which is above all the well-being of the horses."
Phelps spoke about the need for the entire Thoroughbred industry to prioritize tracking for the sustainability of horse racing. She also highlighted the potential and power of the human-horse bond and the important role retired racehorses can play as ambassadors for the sport in bringing people and horses together.
"Meaningful change is not achieved by threats or admonitions, but rather by creating and owning a vision, building a coalition of like-minded people, and supporting them with tools and strategies to bring change," Phelps said. "A lot of people come to racing for the sport, but they stay because of the wider benefits… the physical and mental well-being they get from being involved with the racing people and our fabulous horses. That's this connection that transcends our industry, brings us into alignment with our critics, and speaks to our common humanity."
Register for BloodHorse Daily
Flash reviewed the results of a study she conducted as part of the Australian Thoroughbred Wellbeing Project to look at outcomes for horses leaving racing.
"(Previous research has) created these perceptions that only a lucky few are re-housed and most are sent to slaughter and are often unsuitable for re-housing due to injury or behavioral issues. So what we wanted to do was investigate those perceptions," Flash said.
The survey found that around 19% of the racing population quits each year and more than half of the horses that were retired were voluntarily withdrawn from racing. Ultimately, most of the horses included in the survey ended up in riding or pleasure careers outside of the thoroughbred industry, and less than 1% were sent to slaughter. These results provide a critical update to some of the previous perceptions about the lives of Australian Thoroughbreds.
Hutchison made his presentation while demonstrating with his off-road thoroughbred Peopleton Brooke, which he uses in his program to help military veterans and those with mental health issues. He praised horses, especially thoroughbreds, for their ability to excel in equine-assisted therapy due to their intelligence and sensitivity. Hutchison found that military veterans can relate to off-road thoroughbreds because of their similar backgrounds of needing to rediscover purpose in a second career.
"A horse is basically what it is taught to be, and if we are prejudiced against a horse or a human because of where it comes from or what breed it is, then we are doing ourselves a disservice," he said. declared.
"We're all here to help these horses, but maybe the question we should be asking is not 'How are we helping these horses' but 'How are these horses helping us?'"
Berk's presentation focused on the decision-making process for considering humane euthanasia for retired or recently retired racehorses. AAEP guidelines recommend euthanasia if the horse has 1) a chronic condition that results in ongoing pain or pain that cannot be treated with medication, 2) a condition that will result in a poor quality of life , 3) health problems that require medication or confinement to a cubicle for the rest of his life to be comfortable, or 4) an unmanageable medical or behavioral problem that makes him dangerous to himself or others .
"Euthanasia is an extreme option," Berk said. "The need for euthanasia can potentially be minimized by recognizing subtle performance-limiting issues on the track before they become chronic and irreversible. This requires education of all stakeholders: trainers, owners and veterinarians."
Schuster spoke about the challenges of tracing horses throughout their lives and described a traceability toolkit that takes advantage of these operational aspects, which the industry is already doing well, and identified priority areas to achieve. best practices.
"The main focus of traceability in the thoroughbred industry may be driven by the industry's desire to maintain its social license," Schuster said. "If you want to make claims about an animal's welfare or even its origin, you will need traceability as the backbone that allows you to demonstrate or provide evidence for those claims."
A recording of Tuesday's session is now available at internationalracehorseaftercare.com/help-resources/conference-resources/ifar-conference-2022/.
IFAR 2022 ends with its second session on April 19 at 11:00 GMT (12:00 BST). Moderated by Caroline Searcy, Australia-based race host, speakers will include Michael Drapac, owner and breeder; Dr. Adrian Farrington, Executive Director of Veterinary Clinical Services at the Hong Kong Jockey Club; Kirsten Green, executive director of the Retired Racehorse Project; and Jennifer Hughes, Managing Director of Equine Welfare for Racing Victoria.
The session will also feature a panel of young professionals moderated by Searcy and comprised of Godolphin Flying Start interns George Broughton and Elinor Wolf; Harry Derham, assistant coach; Caoimhe Doherty, co-founder of Treo Eile and stud manager at Forenaghts Stud; and Natasha Rose, Equestrian Affairs Project Manager and Retired Racehorse Unit Manager for the Hong Kong Jockey Club.
Additional conference information including speakers, moderators, presentation topics, biographies and link to register is available at internationalracehorseaftercare.com/virtual-ifar/. All sessions are free, but registration is required. Those attending each live session will be able to ask questions of the presenters.
Prior to the virtual conference series in 2021, IFAR had already been held in conjunction with the Asian Racing Conference in Cape Town, South Africa in February 2020; the General Assembly of the European and Mediterranean Horseracing Federation in Oslo, Norway, in May 2019; the Asian Racing Conference in Seoul, South Korea, in May 2018; and the Pan American Conference in Washington, DC, in May 2017.
IFAR is an independent forum that recognizes the geographic and industrial differences between racing countries and is designed to improve the tracking of Thoroughbreds worldwide. Working with the International Federation of Horseracing Authorities, IFAR will raise awareness of the importance of Thoroughbred welfare, improve education on lifetime care and help increase demand for ex-racehorses in d other equestrian sports. For more information on IFAR, visit internationalracehorseaftercare.com.