khwaabgaon: Jungle Mahal's Khwaabgaon hosts a textile printing workshop to develop residents' skills for employment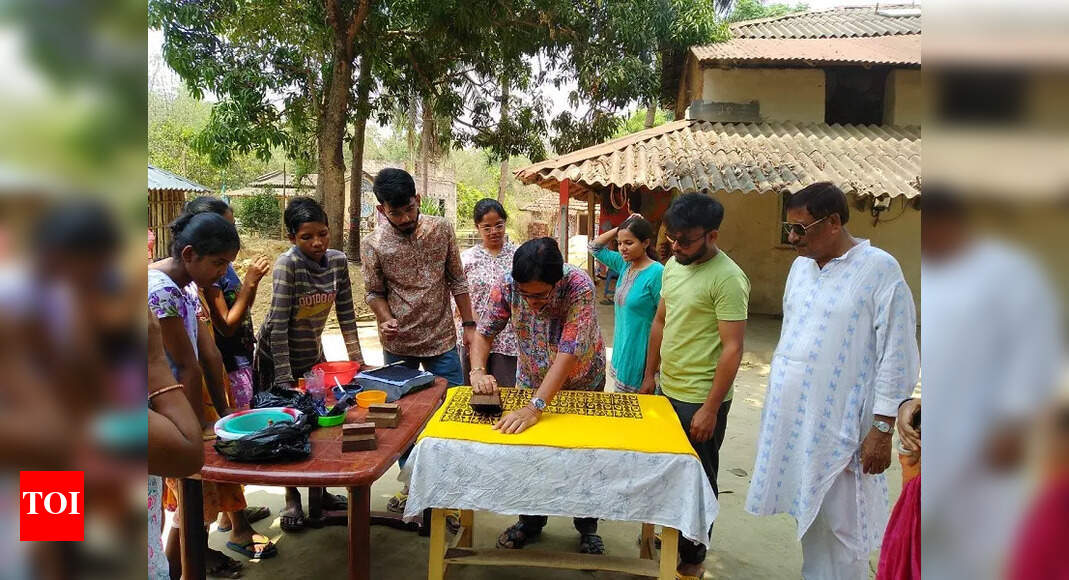 The dream of educating and helping everyone gain the skills to support themselves financially is not easy to achieve. But some remote places in Bengal are developing with help from all sides and are making small steps towards realizing those distant dreams. On World Art Day 2022, Khwaabgaon, an idyllic and picturesque village nestled in the interiors of Jungle Mahal, was bustling with activity thanks to a skill-building textile printing workshop. Four final year BFA students from Government College of Art and Craft, Kolkata had been invited as mentors to teach residents of Khwaabgaon the art of block printing. The goal was to help them learn a new skill, express their creativity through it and also use it to generate income.
The three-day workshop was chaired by internationally renowned designer Paresh Chatterjee. He advised the mentors through the dyeing and block printing process and also instructed them to use onion skins as a natural dye which turned the white mulmul fabric into a vibrant earthy green. "The village children turned out to be the most enthusiastic participants. Besides using the available fabric, some even took off their t-shirts to paint them on the spot," said Mrinal Mandal, curator and coordinator of the Khwaabgaon project. from Chalchitra Academy.

Over the past four years, he has held several such workshops to develop the visual vocabulary of children in Khwaabgaon, who belong to the marginalized Lodha-Sabre community. "Their reception of the artwork and their ability to grasp the flow of the workshop is certainly encouraging," said Mrinal, who plans to set up a textile printing studio in the village as well as a production line to facilitate the creation of authentic Khwaabgaon wares.