March 28 Webinar: Enabling Next-Generation Space Electronics with a COTS Digital Backbone Architecture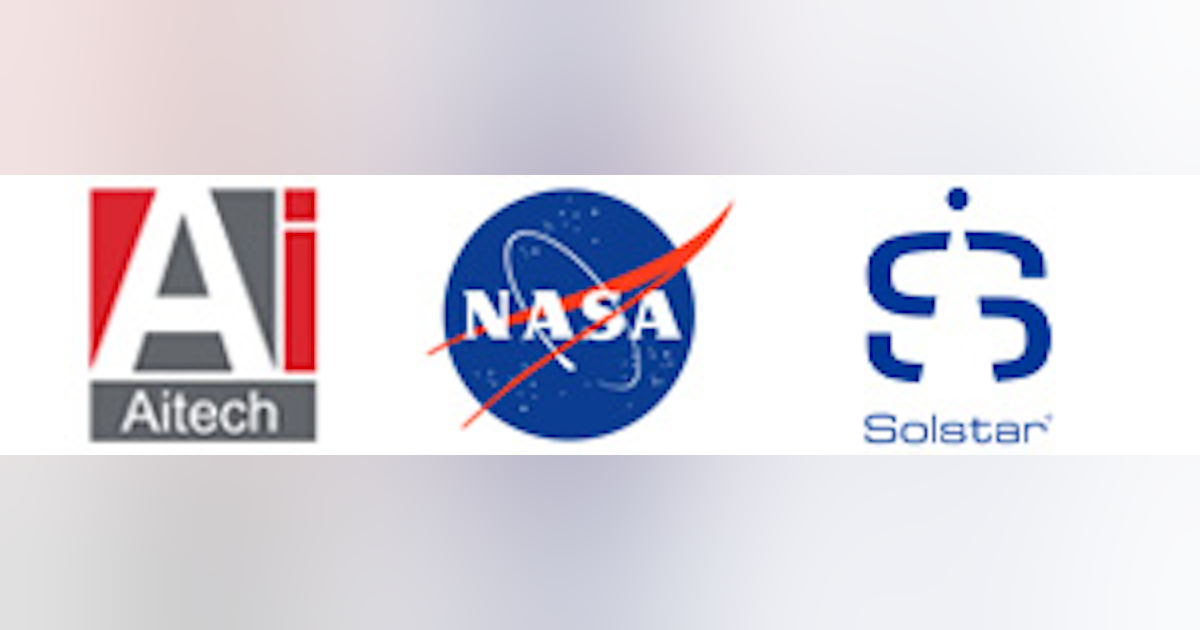 Dated: Tuesday, March 28, 2022
Time: 1:00 p.m. EST / 12:00 p.m. CST / 10:00 a.m. PST / 6:00 p.m. GMT
Ssponsor: Aitech, NASA, Solstar Space Company
Duration: 1 hour
Register today !
Already registered? Please Click here open a session!
This webinar examines how the Space Digital Backbone (Space DBB) models an "information highway" approach to providing a unified, connected communications infrastructure for the growing number of digital technologies being implemented in space technologies. This concept, which makes heavy use of COTS systems for scale and cost-effectiveness, is shaping how future missions will operate by harnessing the power of connected and open standards-based computing to enable solutions robust enough for the most demanding space missions. deep and small enough for compact missions. systems deployed in LEO and NEO orbits. Discover this next-generation infrastructure that catapults space electronics to new heights.
During the webinar discussion, Solstar will present highlights of successful spaceflight testing of its WiFi hotspot and internet service for spacecraft using commercial satellite networks successfully piloted on Blue's New Shepard. Origin in partnership with NASA's Flight Opportunities program. An overview of developing technologies, such as satellite data relays for space assets to provide persistent, two-way space-to-ground communications, will be reviewed along with a review of the space communications services that these technologies enable. Solstar's spatial WiFi access points, narrowband and broadband satellite data relays and services will be described, including results developed under contract with AFWERX and SPACEWERX.
In addition to discussing the importance of connected and reliable communications networks in space applications at all levels of orbit, NASA will examine the importance of working with U.S. industry, international partners, and academia to develop new technologies that support its Moon to Mars exploration approach. Specific discussion topics will include advances in manned spaceflight, commercial transportation initiatives, and ongoing work to develop systems for use in deep space applications.

Presented by:

Anthony Lai
Space Sales and R&D Director
Aitech systems

Prior to returning to Aitech for his second term, Anthony Lai was General Manager and Vice President of Physical Optics Corporation and successfully developed the DoD encrypted avionics business, most importantly gaining a majority share of the DoD avionics data loader market. . With over 30 years of experience in the space and defense industry beginning at JPL, Lai has led HW and SW design and development teams for numerous NASA missions. During his first tenure at Aitech, he led Aitech's space initiatives, providing systems to NASA, commercial space customers, USAF and global space programs for 10 years.
Having now joined the company, he applies his vast knowledge of the space and electronics industry, his technical diversity and fluidity as well as his ability to drive programs with high levels of customer satisfaction across all of Space's activities. Aitech. Lai had previous SECRET clearance and received his BSEE with a minor in applied mathematics from UC Irvine and MSEE specializing in signal processing from UCLA. It has managed more than 50 projects as a system/subsystem supplier and offers Aitech space products to more than 30 LEOs for deep space missions without failure.



Brian Barnett
Founder and CEO
Solstar space company

Solstar Space Founder and CEO, Brian Barnett, is a space and serial satellite industry entrepreneur and a recognized authority and leader in the commercial space and mobile satellite services (MSS) industries. ). He has over 30 years of experience in the commercial and civil space, mobile satellite industry, and solar and clean energy industries. He served as principal investigator on several successful spaceflight payload missions, including the highly successful #FirstWiFiinSpace and #FirstTweet from Space missions. He invented the Schmitt Space Communicator which now resides in the Smithsonian National Air & Space Museum.
With NASA, he managed Space Shuttle experiments and integrated more than 20 payloads for the Astronaut Crew Training Module for the International Microgravity Laboratory's Spacelab mission. Barnett provided project management, payload development/integration, and astronaut crew training at NASA's Marshall Space Flight Center and Johnson Space Center. As a management consultant, he established and built KPMG's space and high-tech practice in New Mexico, and led the team that selected the location of what is now Spaceport America.

Dr. Mark Matossian
Co-founder and aerospace engineer
Solstar space company

Dr. Mark Matossian is an aerospace engineer and senior executive whose career spans business development, engineering, and international operations. Dr. Matossian has a proven track record in multiple verticals including Synthetic Aperture Radar (SAR) and Optical Imaging, Telecommunications, Mobile Technologies and Cloud Data Centers. He has expertise in early-stage and high-growth projects, including building and managing external relationships, global supply chain/manufacturing, operations strategy and complex contract negotiations. Dr. Matossian has managed over 10 Google projects with costs ranging from $10 million to $1 billion and led cross-functional teams on multiple continents.

Larry Dungan
Project manager and design engineer
Nasa

Larry K. Dungan is the avionics manager on the power propulsion element and the command and data processing manager on the habitual and logistical outpost in support of the Gateway Space Station program. Previously, he was deputy system director for command and data processing on the Orion spacecraft. Before joining the Orion and Gateway teams, he was project manager and electrical designer on the ARGOS robotics project for nine years. Before joining the ARGOS team, he was responsible for the environmental health system group for the environmental monitoring of the Space Shuttle and the International Space Station. Larry has been an electrical designer on numerous flight hardware projects in the areas of laptop computers, power supplies and photo-video equipment. He has been with NASA since 2004 and has worked at NASA-JSC since 1996. He holds bachelor's and master's degrees in electrical engineering and has received numerous awards, including a JSC Director's Commendation Award and a Silver Snoopy from the Astronaut Office.


John Keller
Chief Editor
Military and aerospace electronics

Sponsored by: