New jobs and skills center launched in Tower Hamlets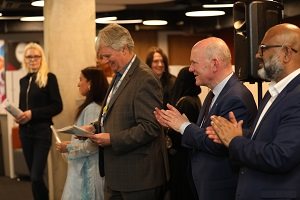 A new jobs and skills center at the former Fruit and Wool Exchange in the heart of Spitalfields in London has been launched by Tower Hamlets Council.
The center will eventually provide access to employment and career support for people living in Tower Hamlets, but in the short term it has been provided to Poplar HARCA to use to run a work program arts and youth leadership.
Cllr Motin Uz-Zaman, Deputy Mayor and Cabinet Member for Labour, Economic Growth and Faith officially opened the Brushfield Street Center on Friday March 11.
Cllr Motin Uz-Zaman, said: "This is a great resource for residents of Tower Hamlets in a busy part of our borough. Our long-term plan is to create a job center that will help people gain the skills they need to advance in their careers. But in the short term, I am delighted that Poplar HARCA is using the space to organize a program for our young people. This will give them the opportunity to acquire new skills, but also to demonstrate their talents and show their potential.
Tower Hamlets Mayor John Biggs said: "We are committed to helping residents find employment, and this new center will be of great benefit to both residents and our local businesses. We are working hard to support our borough's post-pandemic recovery, and I look forward to seeing the results of this new center. »
Babu Bhattachejee, Director of Communities and Neighborhoods at Poplar HARCA added: "We are thrilled to bring our innovative Spotlight arts and youth empowerment programs to this great new space in Spitalfields. We will be working with local partners and residents to provide an inspiring offer of community activities for all ages, aimed at increasing skills and helping everyone achieve their aspirations.
The center is located in the basement of a new building, which sits behind the preserved historic facade of the Fruit and Wool Exchange. It was offered to the Council as part of the town planning obligations.
While being managed by Poplar HARCA, it will address the lack of provision for young people in this area and the gap in high quality artistic provision. The housing association will also work in partnership with Toynbee Hall to run the center.
A varied program of activities is planned for young people in the neighborhood and residents, including exhibitions highlighting the work of young artists and accredited internships. The space will also be used for partnership meetings and events with youth providers, arts providers, volunteer, community and charity groups.
Posted on Tuesday March 15th, 2022