This institution helps people with disabilities to acquire long-term professional skills
Bimala Khanal worked in a mill when she was 16. She had long luscious hair. But, one unfortunate day, her hair got caught in the grinder machine and she was burned. She lost her hair in the accident.
After years of struggling with pain and the judgments of society, the 42-year-old mother of one daughter is happily working to support her family. To date, she has been busy learning sewing skills and experimenting with making bags, rugs, key rings, purses and t-shirts.
Bishnu Pukar Shrestha had just entered his twenties. But, a certain fall from a roof injured his spinal cord and forced him into a wheelchair. However, Shrestha has now changed her destiny and gained new skills. He is now a thangka artist, working independently and earning decently.
Behind the change in fate, Khanal and Shrestha give credit to the Boddhisatva In Action (BIA) Foundation where the two learned and earned. "Our goal is to empower them and make them capable of executing the professional skills they have learned so that they can earn a living," says Gokarna Dhungana, Executive Director of the BIA Institute at Jorpati.
give a basis
The BIA Foundation is a philanthropic initiative of Chogyal Rinpoche who founded the institution in 2013 after his arrival in Nepal. "He traveled to several places to research where and how to help the community. After several meetings, he arrived in Sanga to do research on disabled people and, convinced, he founded the association", informs Dhungana.
In the premises of the Nepal Orthopedic Hospital and the Nepal Disabled Association, the institute works closely with the disabled and people in difficulty.
The main objective of the institute is to improve the lives of the disabled community. For this, he began to give them not only shelter, but also the professional skills necessary to earn and build a living.
Ngawang Chhiri Sherpa first came to BIA after suffering a spinal cord injury while on a trekking expedition. "I came here in 2014 and was in the first batch here to learn how to do the thangka paintings. I had already learned thangka making, but felt there was a need for a more appropriate course. I am now happy that the skill is also transferred to some 30-40 others.
Sherpa, at BIA, met like-minded people and improved her thangka skills. His growth can be seen in the fact that he has succeeded as a trainer and is doing very well inside and outside the institute.
Focus on structured learning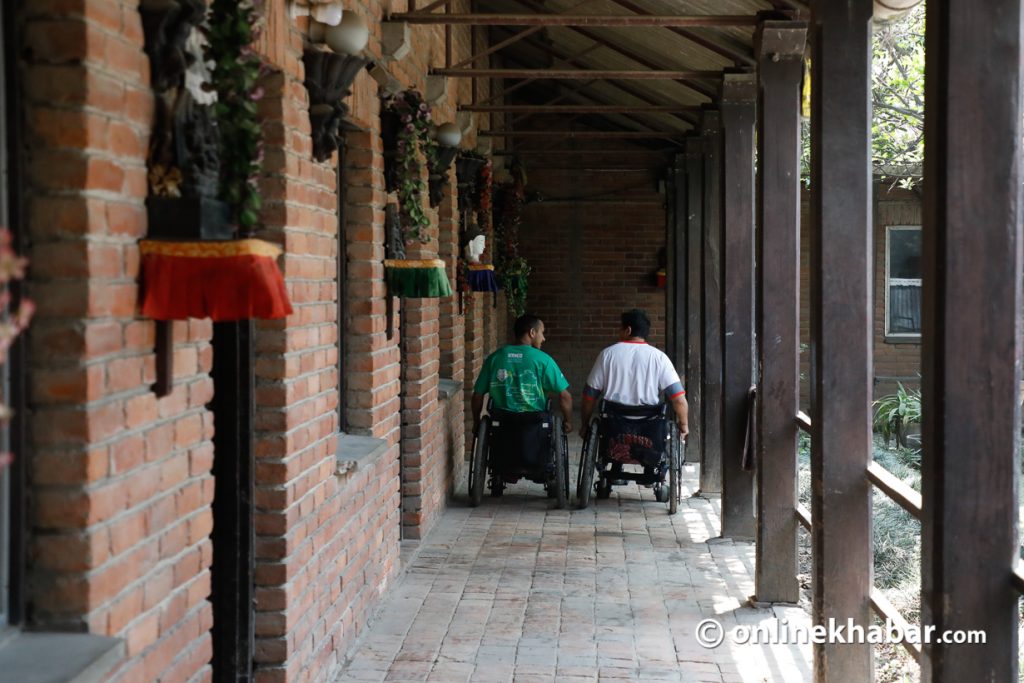 There are a number of training workshops for the disability community to strengthen and empower them. However, adds Dhungana, this is not enough.
"If you ask any random disabled person, they are sure to have attended at least one to four trainings of various types from various institutions. But, to truly judge the implications and reliability, we need to see how the training impacted their lives. Two days or even a week of training can't refine them or make them money-making capable once they're done.
Before the BIA, Khanal trained at the Department of Cottage and Small Industries (DCSI) for three months and then at Shanti Sewa Griha. She got a job at a paper mill and worked there for 13 years. "Since I arrived here, the economics have changed slightly for the better. There is a place for me and my daughter is getting a good education.
Keeping the long-term impact in mind, the charity has come up with a suitable six-year course to teach and train those who seek solace in their premises with professional skills, says Dhungana.
"We started with the thangka first, then the thangka applique. On average, they spend their time here like in a real educational institution and learn the basics of thangkas and then work on refining their skills," says Dhungana. "The course is divided into a yearly course system with exams and a ranking system. . We believe this paved the way for open and healthy competition among students. »
Not only in thangka, they also have the structural learning system in others. "We teach incense making to visually impaired people. This is because they have a better sense of smell and touch. Apart from this, there is a group of disabled and struggling women who weave Dhaka cloth, rugs and make felt products and clothes.
In addition, in Jawalakhel, the BIA Foundation organizes statue-making workshops and in Kirtipur, it offers metal-making workshops and thangka training. "The best part is that the training involves amputees, not only as a trainee but also as a trainer."
Comfort a priority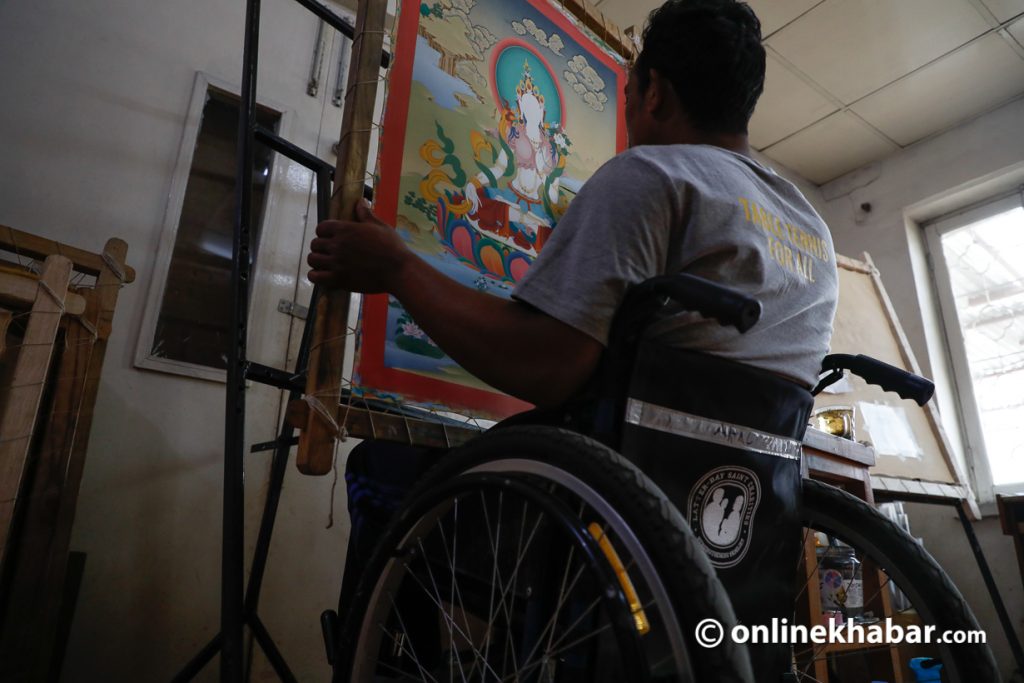 The BIA Foundation claims that their course is very flexible and designed to meet their physical and psychological needs. "Since there was a pandemic in between that affected the psychosocial aspects of their lives, we also pushed back the exam dates and the entire training to accommodate them," adds Dhungana.
Flexibility is accommodated throughout the course. "We first started with graph paper and learned color mixing techniques. Then we move them to the canvas. The institute provided us with custom-made frames so that we could slip in and make the thangkas with ease. On a daily basis, we follow a routine that takes into account that we cannot sit still for too long. The art is difficult but worth learning," says Shrestha.
Meanwhile, Dhungana adds, "We have appointed a nurse and a physiotherapist to give them the care, treatment and rehabilitation they need in addition to professional skills. The most serious and common problem for wheelchair users is that they are susceptible to pressure sores. They have no sensation in their lower half, which is why they need a regular break and review in between.
In addition to teaching them vocational skills and practicing them, the institute also focuses on their physical and recreational activities. "There are regular picnics, marathons, hikes, sports (basketball and cricket) and other celebrations. A team also left to participate in the Paralympics. Apart from that, there are regular interaction programs with celebrities and motivational speakers to keep them motivated.
Adding more value to the care it provides to interns, the institute has even set up a day care center where 10 children of BIA members are cared for.
uplifting first
But, its main objective is to produce qualified human resources with appropriate professional skills who can be independent artists or can sell their skills to the platform and the market where they feel positive, explains the organization.
To make the system effective, "those who do better also receive better and more incentives. Everyone gets a basic incentive of Rs 6,000. Although the incentives are not life changing completely, they are given pocket money and they can also use it to buy thangka supplies and canvas a once graduated.
The incentive system encourages others who are falling behind to want to improve their performance next time. And at the end of the day, sometimes they even plan to hold an exhibition so that the trainees get the exposure and the platform to showcase their talent. "We are exhibiting soon at the Taragaon Museum for graduates this year."
But, the institute realizes that there might be people who will not pursue their professional skills even after graduation. "Yet the goal is always to enable them to earn a living on their own, whether that's teaching others like them at BIA or independently and/or selling their crafts."
However, the market may not be welcoming to them. For this, the BIA becomes their first buyer and helps them to perfect their craftsmanship and generate a market for their products where they need it.
Apart from this, the organization also provides them with reasons to earn extra. For example, Khanal runs a chatpate booth here during his break. Some trainees also have a particular interest in investing in the stock market and trading in the secondary market.