UPDATE: 'Not in line with OPP values': Cop's professionalism in question after video shows him saying 'he would like' to join convoy protest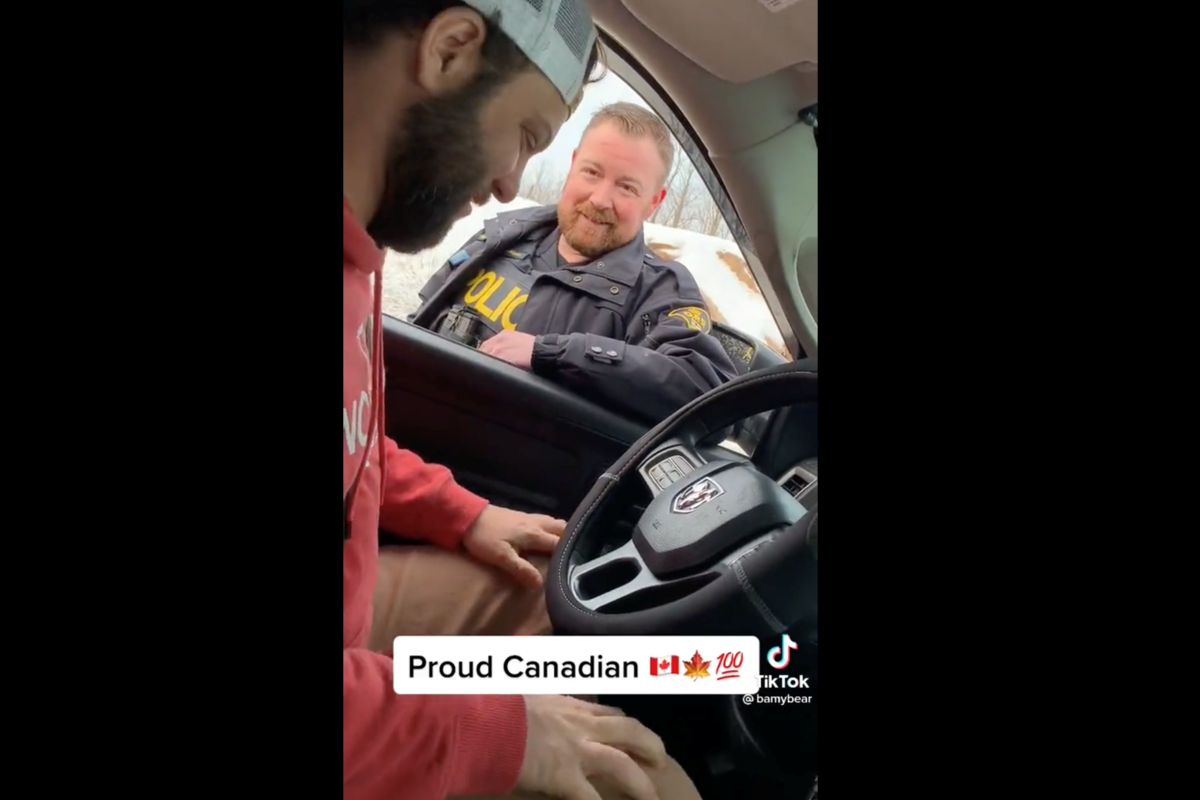 Video circulating online shows the unidentified officer conversing with protesters in a truck, saying he supports the convoy "100%".
The Ontario Provincial Police (OPP) has been made aware of a video circulating online that questions the professionalism of an officer after he recorded his support for the truck convoy in Ottawa.
A video was posted to a Twitter account called the Coalition Against More Surveillance on Saturday, February 12, and it shows an Ontario Provincial Police officer speaking to convoy supporters en route to the protest in Ottawa.
"I haven't been to Ottawa, but I've only heard good things about our protesters," the officer said. "Wait there."
After an invitation from the driver and passenger of the van to join them in the protest, the officer said "he'd love to" but had commitments at home to keep.
"We OPP, we are a little different from the municipal police, we are not going to start taking jerrycans."
He goes on to say that he supports the convoy "100%".
In a statement to CityNews, the Ontario Provincial Police said the video raises concerns about professionalism and portrays views that are inconsistent with OPP values.
"We recognize that the views expressed by the member have upset the public," the statement read. "The role of the Ontario Provincial Police is to ensure public safety, enforce the law and keep the peace. While the OPP supports people's right to hold lawful protests, they do not condone current illegal activity or behavior. Under the recent province-wide state of emergency, those who defy the law will be held accountable.
The statement goes on to say that officers must discharge their professional obligations while maintaining the highest standards of conduct, integrity and ethics at all times.
The officer in the video has not been identified. The location where the video was shot is also not made available, although the OPP said in a tweet that the incident happened during a traffic stop.
Following their comment, the OPP tweeted the following: "For those enquiring, the matter has been brought to the attention of OPP Command, and the Professional Standards of the Ontario Provincial Police has launched an internal conduct investigation into this matter. We cannot comment or speculate on the outcome of the investigation. »
It's the Ontario Provincial Police who encourage these people as they arrive in "Ottawa".

"Wait till you get there 😏"
"I understand what you are doing"
"I support you 100%"

The cops are not there to keep people safe. /2 pic.twitter.com/t2w7feVrFl

— Coalition Against More Surveillance (@CAMSOttawa) February 13, 2022